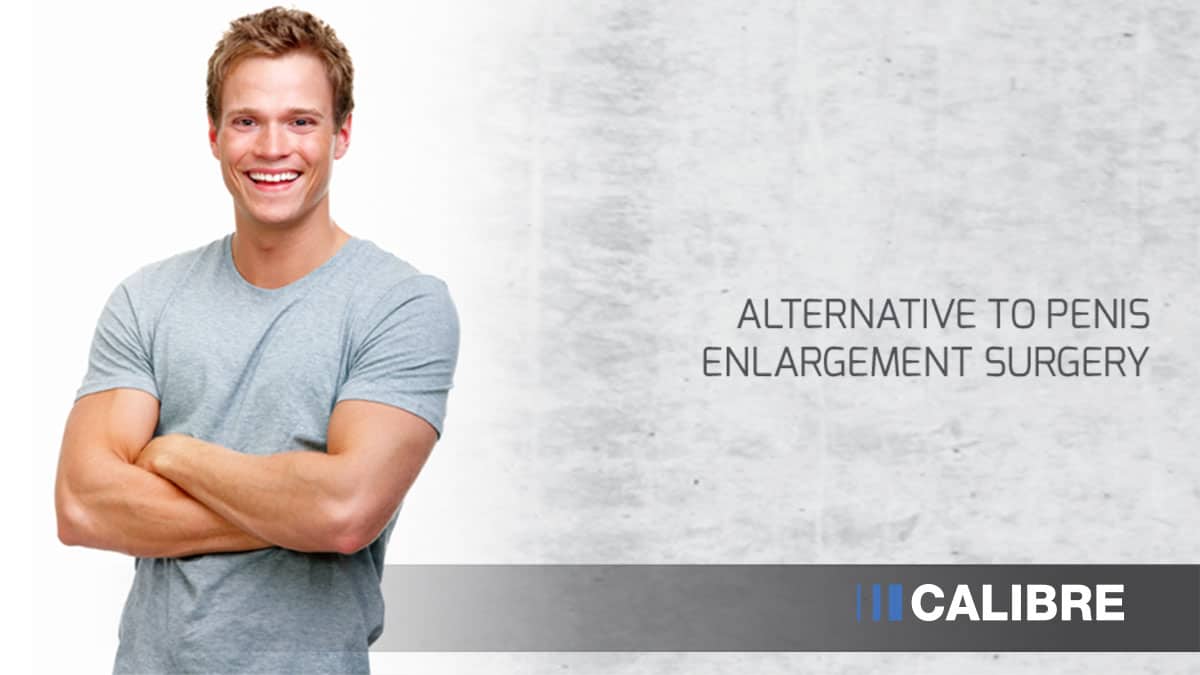 02 May

Penis Enlargement Surgery
An Alternative to Penis Surgery Offering Proven Results
It's part of the world we live in today that men take more care of their appearance, then at any other time in history. We take care of what we eat, go the gym to stay in shape and use products to take care of our skin and hair. Looking the best we can is genuinely important for many men – and this isn't just to do with vanity. Looking good make us feel good; it's an important part of our well-being, which reflects in our confidence and social interactions.
Men are concerned about all aspects of their appearance and research has found that as many as 60% of men are worried about the size and appearance of their penis. Penis enlargement surgery has traditionally been a highly invasive and risky procedure but with development of the CALIBRE technique, men can now access a minimally invasive, consistently reliable and painless penis enlargement option. What's more, CALIBRE is long lasting, reversible and has no downtime, which is a big step forward compared to the legacy penis enlargement surgery options. A win win situation that will leave you feeling good about your body all over. Penis enlargement is now a viable option to address these concerns, without penis surgery –  CALIBRE treatments are safe and pain free. What's more, the treatments are long lasting but also reversible. A win win situation that will leave you feeling good about your body all over.
There are many reasons why you may be considering a penis enhancement procedure; there's no sterotype of man who CALIBRE is designed for. We've treated men from all walks of life and of all ages, with all shapes and sizes of penis. If you want to have more confidence in the size of your penis, would like your penis to be larger, wish to correct aesthetic issues from previous penis enlargement surgery or would like to increase the impact of sexual intimacy with a partner, CALIBRE could be the answer for you.
Contact us to arrange a discreet consultation with one of our expert CALIBRE Doctors. Of course, it's important to have realistic expectations and what's achievable will be different for every individual. It's natural to feel a little awkward discussing personal issues like penis size, but you can rest assured that our friendly and experienced doctors and support team are used to having these conversations and will handle your consultation with the upmost sensitivity, and of course confidentiality.
CALIBRE is a cosmetic medical procedure, involving the painless injection of dermal fillers. In fact, the treatment is very similar to the way in which dermal fillers have been used in cheeks and lips for the last 30 years or so. The CALIBRE treatment leads to a noticeable increase in penis circumference when it is both erect and flaccid. It is common for our Doctors to achieve a 1 inch increase in the penis' flaccid circumference from a 15ml treatment, which means about 0.5 – 0.7 inches when erect. If you have a treatment with a larger volume of dermal filler, increase in flaccid penis length is also likely due to the additional weight. CALIBRE fillers may also be applied to the head or glans of the penis, and this is sometimes recommended to maintain symmetry when the shaft has been enlarged. The results are noticeable immediately, and you won't notice any difference in erection strength or sensation during sexual activity. Undergoing treatment with a CALIBRE Certified doctor, you'll be sure of great results. Their training means that they have a full understanding of penile anatomy and function and are experts in the injection technique required to ensure a smooth and symmetrical outcome with optimal enhancement.
20 YEARS EXPERIENCE
Dr Oates, FRACS Medical Director of CALIBRE CLINICS brings 20 years of experience in cosmetic and aesthetic surgery and produces and developed the pioneering CALIBRE technique for penis enlargement. Dr Oates experience is shared amongst the CALIBRE team and he supervises all CALIBRE Certified Doctors.
PROVEN RESULTS
CALIBRE has proven results. You'll notice the effects of the treatment immediately with significant growth in penis size. We've helped hundreds of men feel better about themselves. Contact us today and see and feel the benefits for yourself.
AUSTRALIA'S LEADING CLINIC
CALIBRE is non invasive – it's not a surgical procedure. This means that you can arrive for your treatment and and hour later be back in your car carrying on with your day. There's no need to take time out for recovery making it the perfect treatment for men in today's busy modern world.
CALIBRE Clinics bring 20 years of experience and development to deliver their cutting edge cosmetic treatments for penis enlargement, a highly desirable alternative to penis enlargement plastic surgery. The CALIBRE technique was developed by Dr. Jayson Oates FRACS who is Medical Director of CALIBRE Clinic.
Dr. Oates is a highly skilled and experienced surgeon who has specialized in aesthetic and lifestyle surgery for the past two decades. Following his initial Bachelor of Medicine/ Bachelor of Surgery he trained in Otolaryngology Head and Neck Surgery (ENT). An interest in cosmetic surgery lead to him undertaking further training with experts from Europe and the USA. Dr. Oates was elected President of the Australian Academy of Facial Plastic Surgery in 2005 – a position he held for 6 years. His surgical and medical interest have expanded to include body reshaping and genital rejuvenation and enhancement. A clinical leader in his field, Dr. Oates established the CALIBRE Clinic, specializing in male enhancement procedures and he oversees the training and development of the team of doctors at CALIBRE Clinic. Dr. Oates' expertise is widely acknowledged by his professional peers and he is regularly called upon by both local and national media for expert comment.
Penis Enlargement Perth Clinic
CALIBRE Clinic can be found in both Perth and Sydney. Our Perth clinic is a sate of the art facility in Subiaco, based in Perth's first fully government licensed day hospital, Academy Day Hospital, to offer the very highest standards of clinical care. Our Perth clinic is easily accessible by car with plenty of parking options nearby (there's no issue with driving straight after a CALIBRE procedure) and by train – Subiaco Train Station is just 250 meters away from our front door.
Penis Enlargement Sydney Clinic
CALIBRE Clinic's base in Sydney is in Crow's Nest where we offer a private, modern and comfortable clinic adhering to highest medical standards. Again this clinic is easily accessibly by car and the nearest train station is just over 5 minutes walk away.
CALIBRE treatments are specifically designed to be non-invasive, painless and long lasting. It takes about 2 weeks for the fillers to be absorbed into the tissue of the penis and then they are gradually broken down over 18 – 24 months, or longer.
After an initial consultation, your treatment will take place over 1 – 3 sessions with a CALIBRE doctor, depending upon the total volume and your recommended program. A large number of men have been enjoying the benefits of CALIBRE treatments, and you too can be one of them.
Young or old, no matter what the current size of your penis, as long as you're over the age of 18, and are free of any serious pre-existing health conditions then CALIBRE is for you. Our specially trained team of doctors adhere to the highest medical standards and our clinics are state of the art. Although it's natural, don't worry about feeling embarrassed – penile enlargement is a perfectly normal cosmetic procedure.
Contact CALIBRE Clinic today to arrange your initial consultation, we'd love to help you!