No one talks about erectile dysfunction even though it impacts the lives of countless men. Did you know half of men aged 50 years and older experience some level of erectile dysfunction? It is common, and even more men are learning about the options out there and are doing something about it.
Whilst some men might reach for some kind of prescription to help with their erectile dysfunction, there are non-surgical procedures that can provide a more reliable, long-lasting solution.
There are also some surgical alternatives, like penile implants, which also aid in treating erectile dysfunction. If you are looking into penis augmentation for yourself you have to be aware of all the options available to you.
CALIBRE Clinics does not offer penile implants. But we want to give you a rundown of the procedure so you are more informed in your decision making process. Read on to find out what penile implants are and what solutions CALIBRE Clinics offer for erectile dysfunction.
Have you heard of Penile Implants?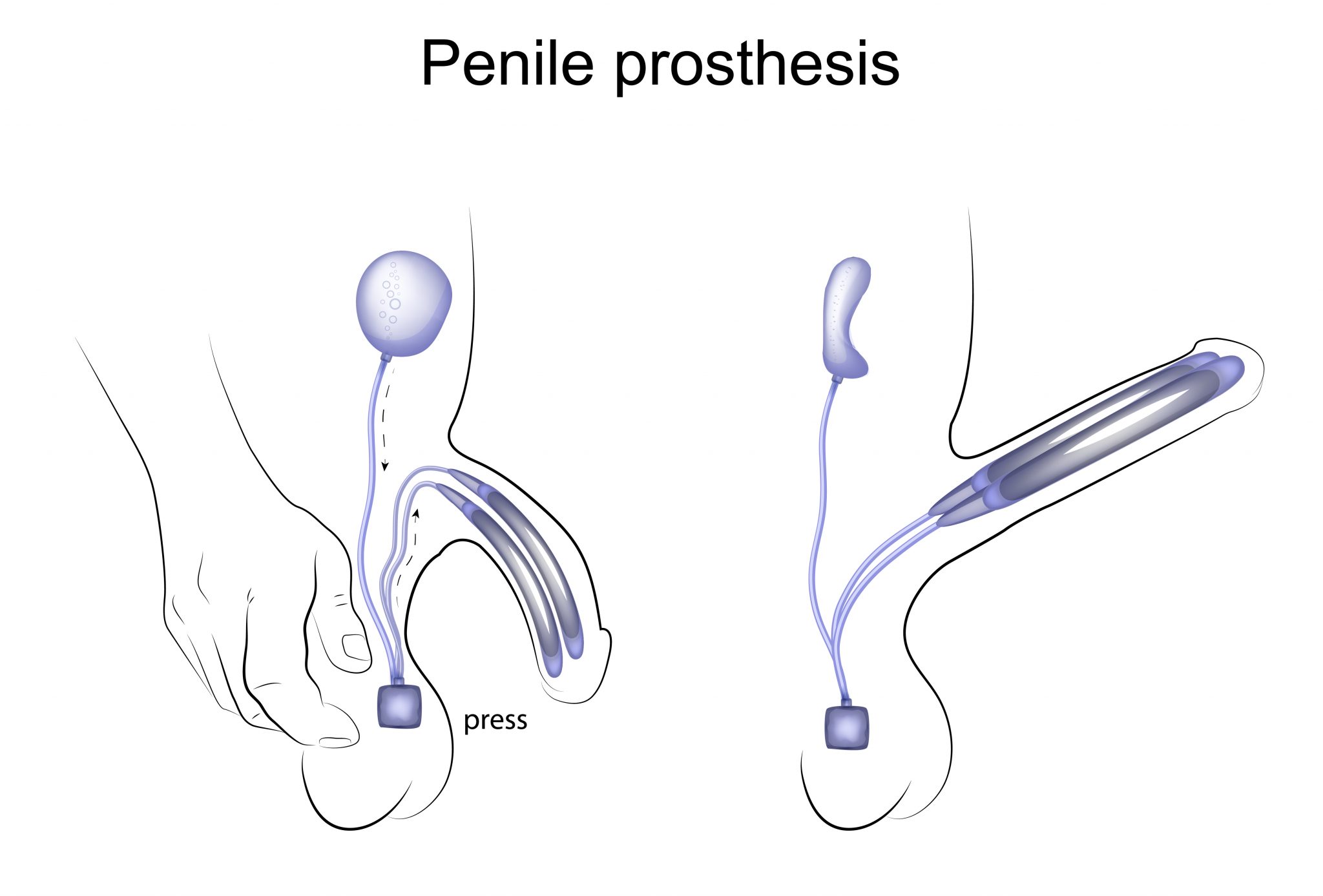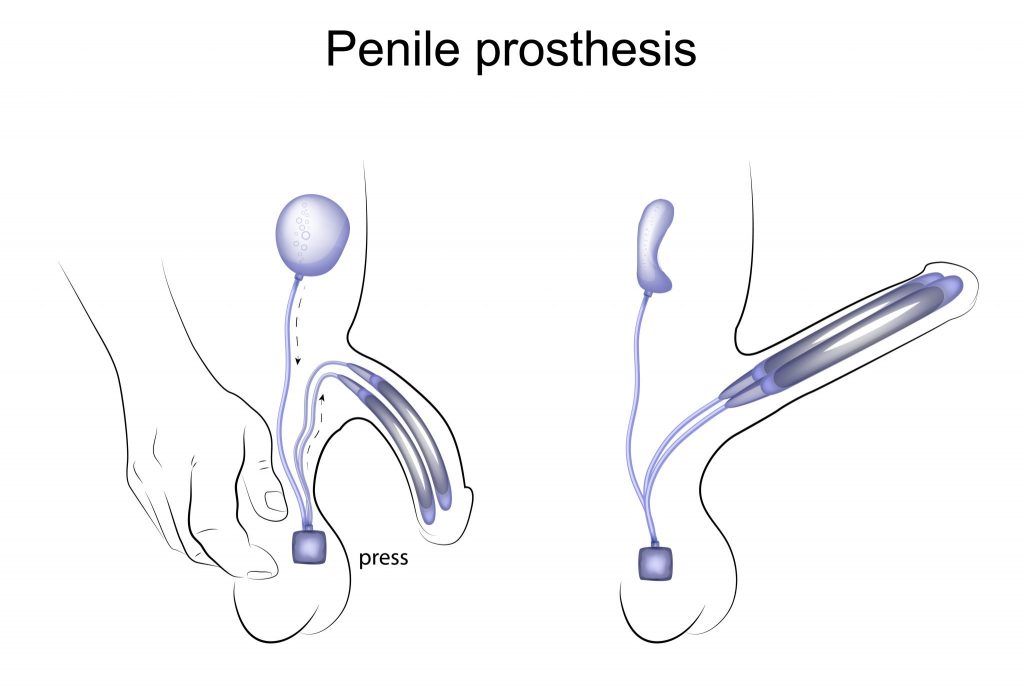 Penile implants are a discreet device surgically placed inside the penis to aid in getting an erection.
Penile implants may be recommended after alternative treatments for erectile dysfunction fail. Post recovery, there is a short wait period for the implants to be functioning compared to other treatment options.
There are two types of penile implants available to help men increase their confidence and sexual well-being. One is a malleable penis implant, and the other is a three-part inflatable implant. Your penis augmentation specialist can discuss with you which implant works best for you and your lifestyle.
When it comes to penis augmentation, your sensitivity and ability to ejaculate should not be compromised. Although everyone is different, recovery rates before engaging in sexual intercourse are between 4-6 weeks. With any surgical procedure, while unlikely, is it worth understanding the possible complications.
The main complication of penile implant surgery is the risk of infection. With proper aftercare and hygiene, this risk can be eliminated. Penile implants available today are reliable, with more and more experienced clinics available to offer the procedure. In the rare case of a penile implant malfunction, a procedure can be done to remove or replace the implant.
Before beginning the process to treat erectile dysfunction, it is important to know the available options. At CALIBRE Clinics, we are dedicated to improving men's confidence. Our procedures can even be used to treat complications from penile surgery. Our procedures are discreet, non-invasive and effective.
LOW INTENSITY SHOCK WAVE THERAPY
A process called Low-Intensity Shock Wave Therapy (LISWT) is used to combat erectile dysfunction. It involved short bursts of sound waves to increase the production and opening up of existing blood vessels.
It is a relatively new area of treatment for ED, but results have shown effects still lasting up to 2 years following treatment. LISWT is usually done twice a week for three weeks, for a total of six treatments.
Men report stronger, harder, longer lasting erections and if results start to fade, the treatment can easily be repeated.
PLATELET RICH PLASMA (PRP) **
PRP is a rejuvenation therapy using the body's concentrated bioactive proteins and blood platelets
to activate stem cells and release growth factors.
Natural, highly concentrated platelets are extracted from the patient's blood and immediately reinjected.
The regenerated penile tissue allows men to enjoy long term healthy erectile function.
Growth factors trigger tissue and skin repair and the regeneration of collagen, elastin, muscles, nerves and blood vessels. PRP is resorbed quickly, yet results last up to 15 months for the non-surgical procedure.
At CALIBRE Clinics we also offer non-surgical penis augmentation procedures. We are able to achieve noticeable increases in penis girth or circumference. You can check out some of our results here. Our aesthetic procedures include:
TGA APPROVED FILLER
This filler utilises what is already found naturally in body tissue. The biodegradable sugar-based filler binds with water in gel form to create more volume in the penis. This soft-tissue filler can be dissolved (if required) and can last up to 2+ years.
TGA APPROVED COLLAGEN STIMULATOR
Our collagen stimulator is biodegradable and biocompatible, meaning it is by no means toxic to the body when implanted long term. It is a soft medical polymer that triggers collagen stimulation once injected.
Depending on the product used, it can be long lasting between 2-4 years.
There are so many options available for men looking to improve their confidence. Trailblazers lead our team in the penis augmentation field. Take a look at the product options we have available and book a chat to see what we can do for you. Taking the first step for treatment is often the hardest. There is no need to be shy, our doctors do this every day!